6th Annual St. Philip Golf Tournament and Silent Auction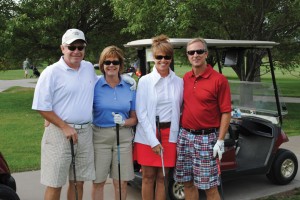 We are quickly approaching our 6th annual golf tournament and silent auction, and the team in charge of this event is very busy finding ways to make this event a fun-filled day for you. Join us for this FUNdraiser and help support our church. Over the past couple of years the golf tournament and silent auction helped pay for our new sign, new lighting in the sanctuary, and the new shed (garage). This year the proceeds will go to fund our efforts to rid the outside of our sanctuary of woodpeckers with new concrete siding!
The date is Monday, August 21 (the date of the solar eclipse!) and we will be playing at the beautiful Club at Ravenna golf course beginning at 9am. The cost is $150/person, which includes green fees, cart fees, range balls, GPS, lunch, and prizes.
We will offer more contests than in the past including contests for straightest drive, longest drive, closest to the pin, and some others. We will have different colored tee boxes which can be used based on gender and age. We will have a 3-round putting contest after we golf; i.e., if your putt gets within a certain distance on round 1 you move on to round 2 and then round 3. We will have opportunities to purchase 'string' to use on the green as well as the ability to purchase a mulligan or two. We will even provide day care, if needed, and our lunch this year will be delicious. For a slight fee, all non-golfers are also welcome to join us for lunch.
Please click here to download the registration form. You can also fill out the form below. Feel free to either print the one page with registration information on it and either mail it to St. Philip, drop it by the office, or send an email with the information to Linda Goodnough at lgoodnough@stphilip-co.org. Payment is due no later than the day of golfing. You are welcome to have your own foursome but even if you don't have a foursome—it's no worries. Our team will put you with someone. And please… don't feel that you need to be a good golfer to play as this is only for fun.