6th Annual St. Philip Golf Tournament and Silent Auction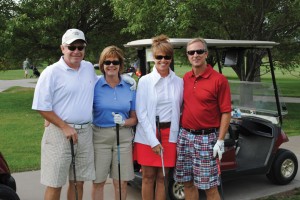 Directions from C-470 E:
Exit onto Wadsworth Blvd., head south for approximately four miles.
Turn left onto Waterton Road, just before the Lockheed Martin entrance.
Turn right onto Dante Drive and then again on Caretaker Road. As you enter The Club At Ravenna, you will need to check in at the security gate. They will give you further instructions as to where you need to go for registration. Please allow enough time for this process (10 extra minutes).
Schedule:
7:30am – Registration begins
9:00am – Shotgun start
2:00ish – Lunch (bbq buffet)
2:45ish – Putting contest facilitated by The Ravenna golf staff
3:30pm – Get together at the home of Kevin and Dawn Collins for some wine and refreshments.
The fee is $150 per person. We can accept either cash or check. There is also the opportunity to purchase the following:
Breakfast Burritos (cash only)
Mulligans (two for $5.00 per person)
10 ft. of putting string (per team) – $10.00
300-yd. drives ($10 two drives/per team)
Putting contest $3.00 per person)
Please feel free to call Linda Goodnough at the church office if you have any questions. Please pass along this information to anyone who is playing with you.
After the tournament all participants are invited to the home of Kevin and Dawn Collins for wine and refreshments.
Please click here to download the registration form. You can also fill out the form below. Feel free to either print the one page with registration information on it and either mail it to St. Philip, drop it by the office, or send an email with the information to Linda Goodnough at lgoodnough@stphilip-co.org. Payment is due no later than the day of golfing. You are welcome to have your own foursome but even if you don't have a foursome—it's no worries. Our team will put you with someone. And please… don't feel that you need to be a good golfer to play as this is only for fun.