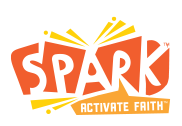 SPARK Sunday School is for children in Pre-K (3 and 4 years) through 4th grade. Children gather in the Fellowship Hall at 9:30 am for an opening program that introduces the current Bible story or verses through songs, skits, and prayers. Adult leaders welcome their group members and check-in by sharing highs and lows from the week. Following the opening, children move with their adult leaders to a workshop to further explore the Bible story through art, Bible skills and games, cooking, creative drama, music, science, or video. The Pre-K class rotates within a dedicated classroom. Just before 10:30, children gather again in the Fellowship Hall for a closing prayer and blessing.
Registration for Sunday School is required. Forms may be picked up and submitted to the church office, or downloaded here:
There is a suggested donation of $20 to help cover the expense of materials.