2018 Rocky Mountain Synod Youth Gathering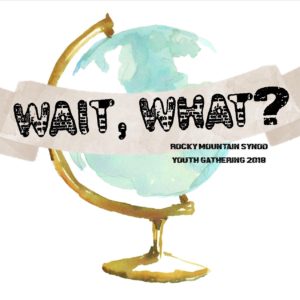 This year, the Middle School Youth Gathering and the High School Youth Gathering are happening at the same time! This Rocky Mountain Synod Youth Gathering will be held in Colorado Springs at the Double Tree from Saturday, January 13 to Monday, January 15, 2018 (MLK Weekend).
The theme is "
Wait, What?"
We are a diverse people and can become complacent with the world around us. There is much to uncover, learn, celebrate, advocate for and act on. Throughout our time together we will share stories that may shock us and create a passion for change and yet there will be stories that we can celebrate as a Church that is striving to be Better Together.
"For in Christ you are all children of God through faith. As many of you as were baptized into Christ have clothed yourselves with Christ. There is no longer Jew or Greek, there is no longer slave or free, there is no longer male or female; for all of you are one in Christ Jesus."Galatians 3: 26-28
To Register, please download the forms below and turn them into Pastor Brad with a payment of $150. If finances are currently a struggle, please contact Pastor Brad. We do not want any youth to not attend this event because of financial issues/hardship.