Worship Services
There are now three ways for you to worship with us at St. Philip: Online, in the parking lot or in our courtyard!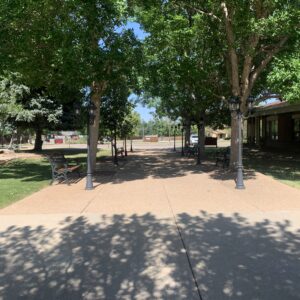 We are now offering worship online and in person: in the courtyard and in the parking lot! Join us in person for one of our two Sunday morning worship services: 9:00am or 10:30am. Join us live online at 9:00am by clicking the zoom link below. You can also view past worship services by watching the live service recording on Youtube. Worship online with us now by clicking here.
At St. Philip, we take this pandemic very seriously. We ask that you carefully weigh the amount of risk you are willing to take. If you do not want to take any risk, we encourage you to worship with us online; either live or by watching one of our recorded services, posted on YouTube after the in-person service. If you are willing to take a minimal amount of risk and want to be in person, come worship in the parking lot where you will be able to turn on your radio, listen and participate in the worship service in your car or just outside your car where you will see the service from a distance.
If you are willing to take a higher level of risk, you are able to worship with us in person. Outdoor worship services are currently our top priority, which means, if we are able to worship outside, we will be outside. Our outdoor worship services are held in the courtyard, at the north entrance of the church building (as we do for Rally Day/Gather Together Sunday). For these services, we ask that you bring your own lawn chair where we will socially distance by families. If the weather does not allow us to worship outside, then we will move inside to the sanctuary. The capacity of our sanctuary is over four hundred and during this pandemic we have limited the number of people to fifty, in the sanctuary.
All people worshiping outside of their car are asked to wear a mask at all times. Holy Communion will be part of these worship services. We have individually packaged communion wafers and wine cups, which will be distributed as you arrive and consumed during the Holy Communion portion of the service. If you need gluten free wafers, we invite you to bring gluten free crackers or bread. If you do not wish to drink wine, we ask that you bring grape juice or even just water.
We ask that those who are at high risk of contracting COVID-19 not worship in person. We also ask that you only come to worship in person if you are healthy, have not been exposed to anyone who has tested positive with COVID-19 in the last 14 days, or if you are experiencing any symptoms related to COVID-19. At this time, the leadership of St. Philip does not feel that it is safe or responsible to worship in the sanctuary where we would incur the highest level of risk. We thank you for your understanding and look forward to worshiping in these new ways!
Live Worship on Sunday at 9:00am
Join us for worship live on Sunday morning at 9:00am on Zoom on your computer, tablet or phone (video and/or audio).
https://us02web.zoom.us/j/81315678942?pwd=eEhJUitZd0FhSDRpK0taMUNuTC80QT09
Meeting ID: 813 1567 8942
Password: 051972
One Tap for Smart Phones
+12532158782,,81315678942#,,,,0#,,051972#
Dial in on your Phone
+1 253 215 8782
Meeting ID: 813 1567 8942
Password: 051972
Worship is at the center of our life together as a community of faith. Weekly worship strengthens us to be God's hands and love in this world through our daily living. All are welcome at the worship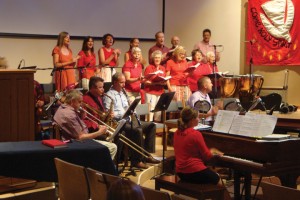 services of St. Philip Lutheran. Our worship services are based on the liturgies of the Lutheran church. They are brought to life through a great diversity of music used in all of our services. On any given Sunday you may hear a variety of music spanning from Bach to Bluegrass, Gospel or Latin fusion.
Children are welcome and included in many ways in our worship. A Children's Conversation is always offered.
We offer three worship services each weekend to allow for a variety of worship times and needs. Saturday – 5:30pm – An informal Communion service based on an evening prayer format. Sunday – 9:00am – Communion services whose liturgical format changes with the church year. A variety of music and worship styles are used in this Sunday morning service. Rally Day 2020 is on August 23rd, which will be an outdoor service at St. Philip at 9:00am. Sunday School and Adult Education takes place after worship, starting between 10:15 and 10:30am.